"K&P" was shown at the International Moving Image Society evening for LGBTQI films and filmmakers on Tuesday, 10 July 2018 at Zero One, Soho, London.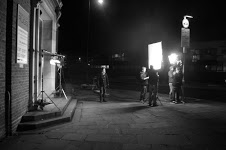 Claudio Ravanelli's contribution to the screenings above was a dark, live action,  fable entitled K&P.  Kylie, "I die every day…" is a trans-sex worker. Paul Sadler, a restaurant worker, "…but nobody cares…". Their lives led separately and grimily singular until fate brings them within touching distance and Paul, probably for the first time in his life, takes the initiative and is received cordially and then embraced. Paul: "I can't believe it, he is the most beautiful thing I've ever seen…tonight someone cares about you". Kylie; "…tonight I wont die I'll be what I was before all this shit." So, after the beatings, the abuse (that we see), the solitary, clawing loneliness and depression, are we to see happiness for both? Contentment? A life of domestic bliss together? This is fable, and Claudio Ravanelli's style and filming attitude, as we are reminded on the website (https://www.claudioravanelli.com/) "…is raw, realistic and influenced by the noir style, especially in terms of lighting, locations and characters".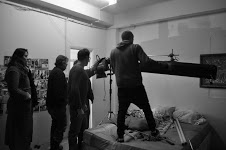 In "K&P" Claudio Ravanelli has given us a sharply observed, utterly engrossing and captivating eleven minute short film. Ravanelli's skill with filming in darkness, low light or partially obscured focus and vision lends a sense of fear and uncertainty to proceedings. The low key performances from Roberto Buoso as Kylie and Alexander Fodor as Paul with perfectly timed narration from Robert French add to an atmosphere that maintains a sense of dark expectancy from first to last.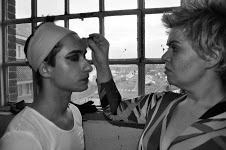 Louis Brennan, Director of Photography, Valentine Rock, make-up and Greta Guidotti, costume work in perfectly harmony with Ravanelli and the sense of ensemble in the film's production is obvious. Writing a Blog of this kind I hear all kinds of extraordinary achievements in completing projects but here we have an outstanding one: K&P was made on a budget of £500 with additional gifts of studio time and an ability, apparently, to dress the set for £30.00.
Additionally this extraordinary piece plays out to an original soundtrack from Sicilian Rock Band, La Muga Lena. The film has been screened at several festivals such as the NOGloss Film Festival of Leeds and was awarded the "People's choice award" at the Corto in Tendenza Film Festival (Barcellona PG).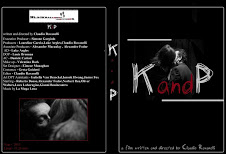 Short film making will always be a major challenge without the backing of a single studio. But it can be done and done well and those who seek to make a film either as a learning exercise, or as an artistic endeavour in its own right, or as a step to other accomplishments (I would never say greater accomplishment as the genre stands proudly in its own right) viewing films such as K&P is an essential step along the way.
Here we have a complete package of a film: strong storyline and script to support it, excellent production, harmonious performances and brilliant technical support in terms of sound, camera, make-up and costume.  It will always, or mostly, be frustrating and disappointing when such films as K&P do not get the commercial support they so richly deserve. But this is a growing area and the more quality filmmakers like Claudio Ravanelli make their presence felt, and the more organisations like the International Moving Image Society are prepared to show, promote and support this kind of excellence the closer we get to true exposure and mainstream acceptance.
This is not easy viewing and is certainly not for minors but it is a lesson in excellence and what can be achieved with talent and no, or very little, money! See it, embrace the talent but be aware this is not going to be an easy eleven minutes!