The Blog commenced its public work in November 2017 following my selection and appearance as a Jury member at the 2017 Dieppe/Brighton Film Festival. The experience in working with Nicolas Bellenchombre, Ben Collier and fellow jury members Ludovic Bource, Bennock O'Connor, Jean Sebastien Petitdemange, Corine Marienneau and Jean-Edouard Criquioche and the work of others in Dieppe demonstrated the power, dynamic quality, variety, strength and vibrant talent that was surging from the independent film sector. It was seeing this enterprise in all its variety and glory that resolved me to commence a Blog in support of the Independent Film Sector. In the first year we have reviewed and reflected on numerous film makers classic and modern in an effort to promote and assist the sector.
First film to be reviewed (November 9 2017) was "Blind Vaysha" (Vaysha Paveugle). This was Theodore Ushev's little masterpiece using a style of linocuts produced on a Cintiq tablet and given added dimension and moving image by the creators use of "undo" key to give a fascinating sense of movement in the still imagery. A demonstration for other low budget film makers of how you do not need masses of expensive editing material to achieve outstanding effects or to create a short film of international standing, authority and quality.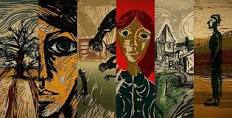 Next up was C'est Le Coeur Qui Meurt En Dernier (It's The Heart That Dies Last) (Reviewed, November 23 2017). With Alexis Durand-Brault directing, Ricard Lalonde Producing and brilliant and complimentary performances from Gabriel Sabourin, Denise Fillatrault, Sophie Lorain, Paul Doucet, Genevieve Rioux, and Celine Bonnier. A moving and touching film that moves easily from past to present and back again. Mother and son strive to reconcile and put to one side past pains and separation. Mother asks son to help in one final act which threatens to undo the first pangs of a desire for unity and peace. The conclusion to the film an absolute triumph.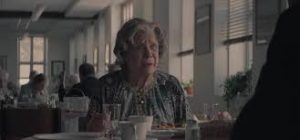 Angry Inuk (Reviewed, November 9, 2017) received a "Highly Commended" at Dieppe 2017. A documentary film exposing what the Inuk people see as a prejudice and misrepresentation of their lifestyle and activities. Faced with the destruction of their community (The Inuk are not a subsistence economy and need trade in sealskin to survive) the younger generation are taking to Twitter and Facebook to plead their case. The title comes from the cultural practice that the Inuk do not get angry! Angry Inuk gets a rare 100% approval rating from viewers on Rotten Tomatoes review site. It is a dignified telling of a story and a fascinating insight into the life of a people threatened with extinction. Renewed congratulations to director Aletha Arnaquq-Baril and producer Bonnie Thompson.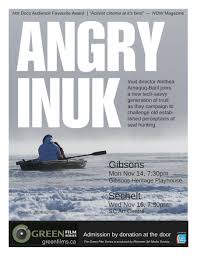 If I was God (Reviewed, April 10 2018).was also looked at early on. The film is Cordell Barker's original and funny 8 minute stop motion view of a classroom science experiment that leads a young boy to believe he might be especially gifted. Except he is only seeking one thing. The success of the project turns an approving spotlight on the work of The National Film Board of Canada and their liberality and willingness to fund such young talent.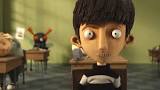 Christopher Auchter's magnificent 10 minute animated  film La Montagne de Sagaana (Reviewed, April 10 2018)was looked at in April, also following the Dieppe/Brighton Film Festival. Taken from classical mythology the film tells the story of a sea hunter caputers who must then be rescued himself by his love. Switching deftly between a modern World setting and the world  of adventure, capture and quest the beautiful film was also supported by the National Film Board of Canada.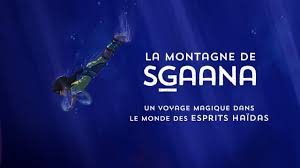 I am Here (Reviewed, April 10 2018)with voiced soundtrack from Canadian performer Nicolas Campbell is as equally remarkable as it is different, distinct and simpler. A five minute 2D presentation that captures the entire history of the Universe from the beginning of time to the end(!) With haunting music by Manalon directors and producers Eoin Duffy and Henrique Barone, the film is a triumph of both film and styling reduction. The film was also supported by The National Film Board of Canada.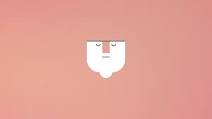 A further film showing in Brighton featured Manivald (Reviewed, April 10 2018) a twelve minute film from Chintis Lundgren (Lundreni Animatioonistudio). With aspects of Theatre of the Absurd Lundgren tells the story of Manivald, a fox that ives at home with his Mother doing not a lot and making little progress in his life or with his personal development. That is until Toomas turns up as a muscular, confident and assertive handyman wolf! Both Mother and Son fall for Toomas. So who will win the affections of Toomas or will the Wolf vanish and things resume their previous state of affairs? It is another highly intelligent and well put together film and another to be recommended.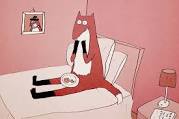 Tesla (Reviewed, April 10 2018)told the story of a forgotten visionary of science, Nicola Tesla, who conceived the notion of limitless wireless electrical power. The film takes us through the mind of the deluded scientist as he struggles to meet deadlines before funding withdrawal. The sense of urgency that Mathew Rankin's superb eight minute film captures accompanied by haunting music from Christophe Lamarche serve to further underline the variety of style, presentation and theme that the National Film Board of Canada support.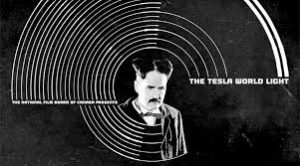 Auto portraits (Carface) (Reviewed, April 10 2018) A highly original, disturbing, frightening but still amusing attack on the car industry by Claude Cloutier who has singing, dancing, threatening cars performing "Que Sera Sera, Whatever Will Be Will Be". The film lasts only four minutes with a series of moving drawings brought to life in stunning short take photo and film, Cloutier achieves more in five minutes than many environmental films which take hours to get their message across. Devastatingly effective and, once again, supported by the National Film Board of Canada.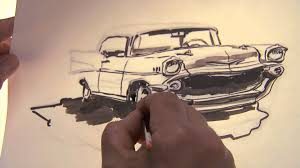 54 heures (Reviewed, April 10 2018) A stunning animated short film from Bruce Alcock and Paton Francis, wriiten by Michael Crummey that tells the harrowing story of a sealing ship and an incident when 78 men froze to death on the ice having been separated from their ship. Footage from those times, animated shadow animation and live interviews all combine to make a beautiful little masterpiece lasting no more than 14 minutes. Kevin Langdale's animation is captivating and Scott McClennan's photography beautifully executed. Producers Annette Clarke and Michael Fukushina sharing fully in the credit for this excellent work.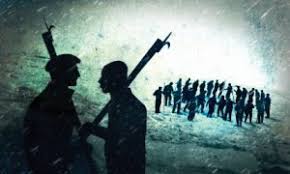 Bam (Reviewed, April 9, 2018)  Director Howie Shia maintaining his liking for films that take in both mythology and a modern urban landscape (Ice Ages, Flutter) in a six minute film story of a young boxer unable to deal with his own temper either in the ring or out of it. The filmmaker plays well with questions of whether his spirit and temper are a consequence of upbringing, his nature or something more unearthly and even divine.
Elliott Hasler and Relsah Productions (posting May 29 2018) The Blog introduced Elliott Hasler to a wider audience. Elliott is another in the growing band of young, independent filmmakers who are demonstrating skill, panache, entrepreneurial abilities and are making their careers happen from very modest beginnings.
Just twenty years old Elliott has made short films, documentaries and an epic full length feature "Charlie's Letters", shot over three years, five countries and while Hasler completed his college course. "Refuge" was another powerful short film executed with sensitivity examining the plight of a young Syrian boy trying to find a place of safety.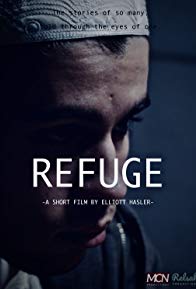 First Round Down (Reviewed May 22, 2018) A fun, tongue in cheek, black comedy from Brett and Jason Butler with gifted and creditable performances from Dylan Bruce, Rachel Wilson and Bob Ramsay. The film centres on a load of highly unlikely scenarios involving a returning ice hockey player seeking a new life as a rather more downbeat pizza delivery guy. That is until, having never held a gun, he becomes a hitman for a local gangster. Clueless and with other characters, including an ex wife, complicating matters the film is fun, unlikely and very well made and shows that the independent sector can produce wild stuff that cuts it with the best.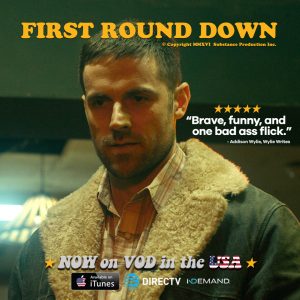 The Devout (Reviewed May 22 2018) The Devout won at Dieppe 2017. An exceptional film both in terms of its cinema-graphical quality, its content, the performances of those involved, the unique and engaging storyline and the way it blends these qualities against the background of an unlikely scenario told in a convincing way. Based around the terrifying an awful fate of Apollo 1 when all three astronauts burned to death when fire broke out in the cabin and locking devises prevented rescue. From this terror a devout Christian becomes convinced that his young daughter is the reincarnation of one of the crew members. The story line therefore becomes multi-layered and intelligent performances from Charlie Carrick, Ali Liebert, Gabrielle Rose, David Nyki, Ryan McDonell, directed by Connor Gaston all do supreme credit to producer Amanda Verhagen.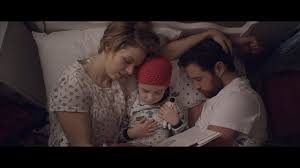 Tadousac (Reviewed May 22 2018) Chloe is in a hurry, travelling north and clearly on a quest and mission. But where is Chloe going and why and what are the questions and answers Chloe is seeking answers for? Martin Laroche maintains the suspense perfectly keeping the audience in attention and engaged. The destination is revealed as the title to the film with Tadousac being a cold and desolate fishing and trading post in the far north of Canada. This beautiful and captivating film is worth seeking out for its originality and its courage in not taking the easy way out to conclude matters.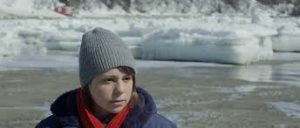 Nelly (Reviewed May 21 2018) Nelly, tells an interpreted story of part of the life of Isabelle Fortier who, as Nelly Arcan, authored and published the sensational book "Putain" 2001 ("Whore" 2004 in English). The book and the film both have artistic distinction, credit and power. Anne Emond's skilful story telling deals with the many conflicts of Fortier's life. Superbly assisted in this complexity with outstanding performances from Mylene Mackay, Marie-Claude Guerin, and Emmanuel Schwartz. Importantly the film demonstrates again the value of the independent sector in making films in areas many leading studios would find too contentious. It is a magnificent film, one that will not give an easy nights viewing, but compulsory viewing for all those who like their film-making to be on the Wild-Side of life…and death.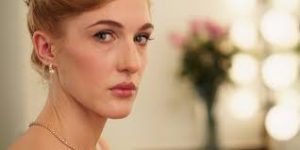 The Cannonball Woman (Reviewed 21 May 2018) David Toutevoix makes his directing debut in this witty, beautifully put together stop-motion animation created with Albertine Zullo. The story is wonderfully original. A couple who earn their living entertaining with a Human Cannonball act in which the female member of the act is fired over increasing distances, but she wants to become a "Bearded Lady"(!) we are not in the world of Equalities or Political Correctness here!! The threats, pressures of being The Cannonball Woman offering delightful opportunities for amusing and original storytelling coupled with a superb opportunity to demonstrate singular skill for stop-animation.