We've already met Elliott elsewhere on this Blog ("Charlie's Letters", "Refuge", "The Mayor Diaries" and, most recently "To Hunt a Tiger"). This final film is, you may have seen, the incredibly ambitious but low budget story set at the beginning of the 20th Century where a troubled English Hunter sets off to Sub-continental India with the aim for shooting and killing a man-eating Tiger that has been causing trouble locally. It is a story of love, loss and adventure and how aims and objectives can change in the face of reality…"You'll be out there totally beyond the pale of civilised conduct…Contending with the jungle and yourself…." as he is warned before the hunt takes place. Whether or not the objective is fulfilled, well we will just have to wait and see……

The point of this posting is to bring news that the young filmmaker Elliott, one of our own making films on next to nothing, has had two strokes of good fortune. These are both not entirely down to luck but down to timing of approaches to Significant Others.
Needing a composer for Music contact was made with Daniel Clive McCallum, the contact was mutually appreciated. Daniel is an Emmy award winning composer and orchestrator for film (Alegria, tristeza, The Tree of Blood, Public Disturbance, Realive, plus a host of other credits),
Consequence of this initiative is that Elliott is over in Malibu even as we write this doing the musical score for "To Hunt a Tiger" with an Emmy award winning composure. Photo to prove that I am not making this up. Added to this Elliott has been invited to present his film as a World Premier at a luxury hotel in The Maldives. There will be more on this in due course.  The point is that it is worth approaching and keeping in contact with everyone that you would like/would dream to work with. Send examples of your work, your interviews, your credits, anything; do not be shy at the idea of self-promotion etc. These approaches can and do pay off. Relsah Films and Elliott are indeed bold and brave in their approaches (To Hunt a Tiger contains live action footage of a tiger, nothing from stock, nothing bought in, but a real tiger filmed and edited by Elliott. How this came about is extraordinary and a consequence of a bold, brave approach of another kind ), the approaches will not always pay off but the point is they can.
(Daniel Clive McCallum)
(Elliott and Daniel working on the music for "To Hunt a Tiger"…Daniel's Emmy award visible in the background).
Not every Independent Filmmaker is going to land a class act and original Emmy winning composer like Daniel Clive McCallum but it can happen and does. We wait to hear the result of this in the film, we also wait to see this work in context with the marketability of the project. Clearly if you impress a luxury hotel chain to take it on, that is a major step forward. I will keep you updated with how this story develops and how a young director referred to as the "…young Spielberg…" elsewhere and the Emmy award winning composer get along and what they produce.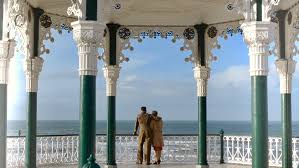 Keep on the journey, it is always worth it and definitely have results that you do not for-see at the start!