J'aime les filles (Reviewed May 21st 2018) A wonderful, unique, eight minute film from Diane Obomsawin exploring love, identity awakening, exploration, joy, passion, confusion and discovery. The profound sensitivity with which Obomsawin goes about her craft is evidenced in her ability to tell such a complete story in so short a time period. Rightly recognised with the Canadian Screen Award for Best Animated Short and the Genie Award for Best Animated Short. A unique film crafted in a form that is outstanding.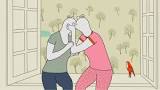 Hipster Headress (Reviewed May 21, 2018) A film, a story, a statement, a plea, a commentary brilliantly told in just forty seconds. Amanda Strong's concern is that of cultural appropriation an issue Amanda Strong also explores in "Four Faces of the Moon". Other works from Strong including "Mia" and "Flood". Strong's company, "Spotted Fawn Productions" has also found success, with the support of the National Film Board of Canada winning the Canada Screen Award for Best Cross-Platform Project.
Charlie's Letters (Reviewed June 5 2018) Elliott Hasler's feature length film debut made while the much praised director was still seventeen. Filmed over three years and across five countries the film tells the story of "Charlie" captured in Tunisia during the North Africa Campaign in the second World War and imprisoned. Charlie escapes and much of the story concerns his journey home. Letters have been the point of contact but these diminish over time. Hand held camera techniques, short takes and accuracy of prop and costume all combine to make this a stunning first film. Hasler's balance between truthful story telling, drama and straightforward honesty and, at times, under-statement combine to create an achievement of the highest order of film making. If Elliott Hasler carries on the way he has started, he is certain to have a long and illustrious career ahead of him.