Further encouragement for independent film makers, with little capital but bags of talent, comes from Elliott Hasler. You may remember that we met Elliott last year ("Charlie's Letters", "To Hunt a Tiger"). Well, with some smart footwork and as exclusively predicted on this Blog, Relsah Productions has achieved the kind of Premier showing status for "To Hunt a Tiger" independent filmmakers can only dream of. As a consequence the film will premier this summer at the Soneva Luxury Hotel Group in the Maldives, running from the 1st -7th July.
We offer our congratulations to Elliott and the production office at Relsah Productions for this brilliant achievement.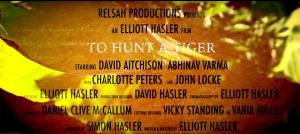 The film, is certain to make an impact given the skill with which Elliott created and brought to fruition a very ambitious product that, as said before, does indeed contain live and original tiger footage. We will keep you updated with progress on this development.
In addition Elliott was interviewed about his work on the Sarah Gorrell show for Radio Sussex on 1st May at 1740. It all helps and boosts promotion. So the message to independent filmmakers is keep yourself out there, keep the self-promotion going!