A quite extraordinary film from Alex Boya and the National Film Board of Canada. Turbine is an animation, originating from monochrome drawings on paper and at only eight minutes long is another of the powerful short contributions for which the NFBC has become famous.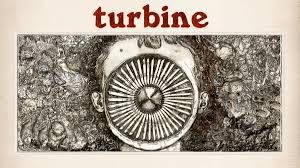 Boya has succeeded in achieving significant and original insight into a range of issues involving post traumatic stress syndrome resulting from wartime experiences, loss of love, consequent attraction to other worldly and un-worldly passions and how loved-ones deal with the consequences of change and transformation in previously secure relations, particularly in the aftermath of armed conflict.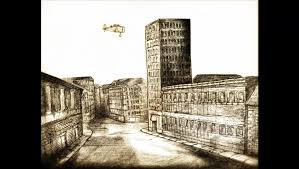 A war-returning pilot lands his fighter back in his own flat, his face transformed to a turbine. Unable to communicate with his wife, who has spent the war in a bomb making factory, he falls in love with a ceiling fan. She, in an effort to cope with this change and transformation in the man she loved, sticks with him but takes dramatic steps to change herself so she can cope with the alteration in his character. The allegory, illusion and comparison is striking.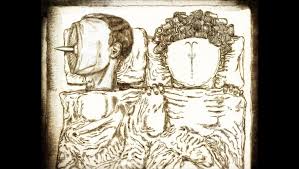 But there are further sub-plots in this imposing, beautifully drawn and original minor-masterpiece. These plots concern the impact of technology and our dependence on them and devotion to them. Suppose they were all stripped away and what we are left with is ourselves and our relationship to each other? An anthem for simplicity, an anti-war film, a plea for generosity of spirit, a warning of the dangers of becoming buried in modern technological devices where we end up resembling and enslaved to the very appliances we thought would save and release us from servitude. Boya's ability to achieve so much, in such a short work of art, is stunning.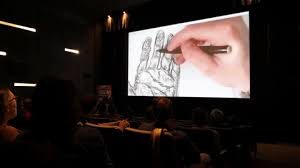 But Boya's own life explains how and why he is able to convey so much insight. Born a Bulgarian, Boya witnessed, in his earliest childhood, the collapse of Communist rule. Moving then to Montreal he took with him "…dispersed letters, objects and old photos…" but then found himself growing up with Star Wars toys.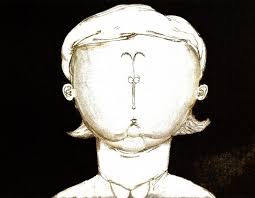 Trained at Montreal's Dawson College and the animation programme at Concordia University Boya's "day job" was, initially working at McGill University producing illustrations for medical and internal communication departments. Joining the NFBC's acclaimed apprenticeship programme in 2015 he fell under the influence and tutorship of the Oscar Winning animator Chris Landreth. the progress from then has resulted in Turbine.
However, in the final analysis the film is also a great entertainment piece, a touch of comedy..Just an everyday story of an ordinary guy falling in love with a ceiling fan, until his wife wins him back by transforming her appearance to look like a steam train…..Happens all the time! Magic!!
Director and animator Alex Boya; producer Jelena Popovic; executive producer Michael Fukushima, Music from Melanie Bergeron, Amanda Keesmaat, Chantal Bergeron, music by Judith Gruber-Stitzer.
Ottowa International Animation Festival 2018, Best Canadian Animation: Special mention: Vancouver International Film Festival 2018, Official Selection: New York Short Film Festival 2018, Best Animated Short: Denver International Film Festival 2018, Official Selection: Festival du nouveau Cinema 2018, Official Selection: Clermont-Ferrand International Short Film Festival 2019, Official Selection: Tallinn Black Nights Film Festival 2019, Shorts Animation Competition.