In February we reported on Claudio Ravenelli diversifying into music production with a promotional video planned with Progressive Metal band YGODEH. Ravenelli, in turning his skills in this direction, demonstrating the need for independent film makers to cast their nets wide in the interests of variety, experience and survival.
YGODEH had chosen well, we suggested, and Ravenelli's liking for the darker side of film making fits with a band who say of themselves"YGODEH is an extreme form of music. However to know that extremity and how to deliver it you need to embrace everything.So all music comes into play when creating our sound from classical to theatrical, for example imagine painting on a black board. The black is the ultimate aggression and darkness but the different colours, shades and tones we decorate this board with is the feeling we wish to portray."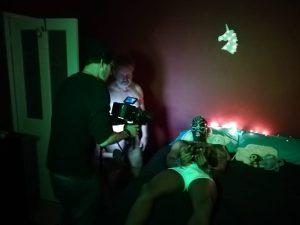 Following on from YGODEH successful releases with "Dawn of the Technological Singularity", "The Experiment Interrupted", "Inside the Womb of Horizonless Dystopia" and "Clinic of Maleficent" we come to "One Night Stand", the subject of the music video.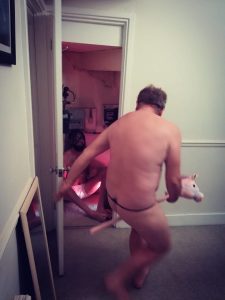 Produced by Alexander Fodor, Claudio Ravenelli and Andre Harrison with art direction from Cain Fowler and the performance talents of Alexander Fodor, Lizzie Whittaker, Jessica Protheroe-Jones and Tabitha Protheroe-Jones, the film is dedicated to the memory of Laureline Garcia, production manager and Friend to the project who, appallingly, was murdered during the course of the project. The originality of the undertaking and finished result, a fitting tribute to her work and her memory is honoured by all those involved in the production.
The video itself also honours Ravenelli's liking for the darker side of life but beautifully, and unexpectedly, turning to comedy and pathos to portray a bizarre, surreal and unusual take on aspects of hidden S&M and fetish practices that take place in the most ordinary of family set-ups…. Maybe! It also honours the sense of theatre mentioned above. An excellent and unexpected twist to the scenario portrayed complimenting original music work from YGODEH. A highly successful first music video for Ravenelli and the possibility of further expansion and expression in this art form in the future.