We have met independent film company Moving Pictures Theatre (MPT) before with their frontier work on 360 filming. This initiative provides for an immersive film experience via a VR headset. While VR headset work has been used most obviously for gaming and education, its role in art, poetry and plays has been underestimated. With the headset on, you find yourself entirely in the room with the performance and performer, able to turn around, look up, look down and be fully involved. Brighton Digital Festival, in October last year, and featured on this blog, introduced MPT theatre and the, groundbreaking, work of Michael Danks, Cinematographer and 360 innovator, from Fusebox Brighton.
The initial film work featured here uses a narrative poem and story "The Last Lighthouse Keeper" by Lucy Nordberg. Directed by Marc Green, the production had been filmed earlier in the year on board the Light Vessel, LV21, now moored at Gravesend having completed its work off the Kent Coast.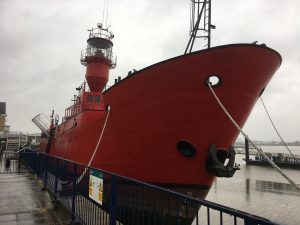 The vessel itself is currently an Arts Centre and lent itself brilliantly to this five minute short film. The film itself, shot in both big screen conventional footage and the 360 degree version, tells the story, in poetic form, of "The Last Lighthouse Keeper", his work, his experience and his final day of work before retirement, as the inevitable automation takes over.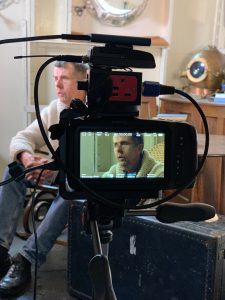 Meeting both the challenges of the environment within the lightship, with all original fittings in place, and the combination of filming in both conventional style and 360, Nordberg, Green and Danks have produced a strikingly original and inventive, closely observed piece that introduces the Company to National exposure and the world of film production. Excellent Cineatography from Alexx Paul Sherman for the conventional version, Peter Gill on Sound, Digital Image Technician Adam Stox and further production work from Justin Hillier all combine in this production. Other work is currently in the post-production stage of development and at least one further film is completed.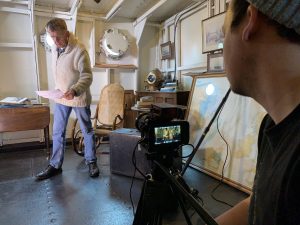 Interestingly, Moving Pictures Theatre are also responsible for the "From Home" Facebook initiative featured previously on this Blog and drawing a wide range of personal film contributions placed on their dedicated Facebook page. This can most easily be reached through the company website at movingpicturestheatre.com .
We are pleased to be able to feature the full short film version of  "The Last Lighthouse Keeper" below.
Further company updates to follow.